---
Local Search Ranking Factor. What about Local SEO now?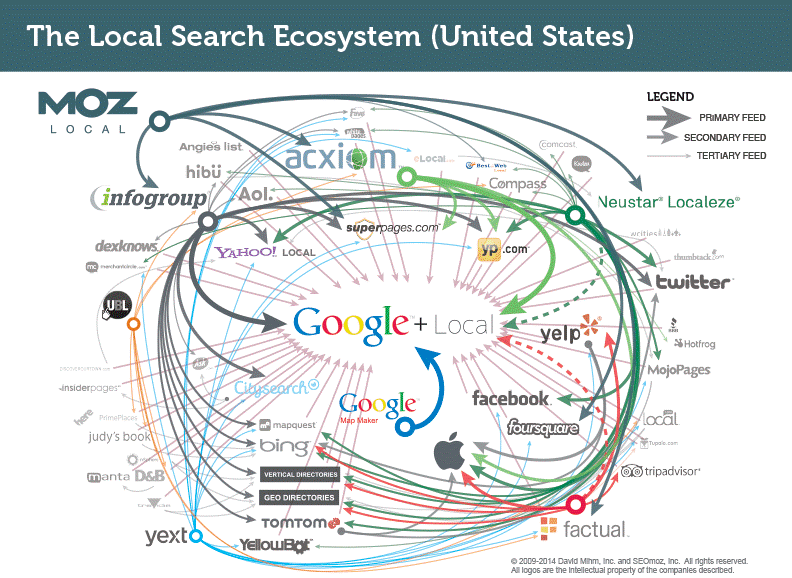 In order to personalize its search engine for users, Google has released various updates to its algorithm which have influenced the importance of different ranking signals. And as it turns out, 'proximity' to the searcher is now the most important signal in local rankings.
Why Local SEO matters?
Since most customers search for local businesses at nearby locations, the proximity of these businesses rightfully takes the top spot. While the influence of distance is reduced in case of location-based search queries ("keyword location" vs "keyword") and localized organic results, proximity is, apparently, the most valuable signal in 3-pack results.
The growth of mobile search has also contributed to this change. With 77% of the mobile user contacting businesses following a local search, it is smarter for Google to show users businesses that are much closer to them.
Mobile signals, generally, have gained importance for local rankings with behavioral signals like CTR and CTA also witnessing an increased value.
You can read more about these changes here.
Local Search Ranking Factors that Matter
While these changes in the ranking factors for the 3-pack and localized organic results have a major impact on local SEO, we advise you to pay attention to the following factors to obtain better rankings in both results.
· Claim 'Google My Business' Listing
Considering that we are trying to rank a business in Google, an accurate and up-to-date listing is vital to achieving that goal. To get started with Google My Business, you will need to enlist and verify all locations for your business.
A consistent NAP (name, address and phone number) data on GMB and your website can help gain more authority and traffic for your website, adding to the chances of ranking for the desired keywords. This goes down to the tiniest of details and if the GMB name has a '&' instead of 'and', it should stay that way for your website and other directories as well.
Your GMB authority is also helped by business photos and reviews while having keywords on the landing page (of the listed website) is another positive step towards a better rank. Adding visual content (photos and videos) offers more value to new users and, undoubtedly, that will give a boost to your rankings.
Complete All Details in GMB Listings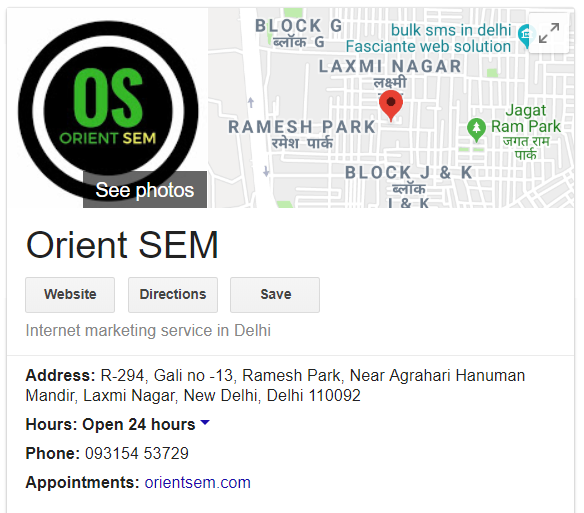 Complete All Details in GMB Listings
Choosing the right business categories and sub-categories is another important step and duplicate listings are an absolute no-no to avoid any penalty by Google.
Pro Tip: A lot of businesses make mistakes between Google+ and Google My Business Listings, so it is important to pay attention when creating a new listing or claiming an existing one.
· Focus on Quality of Links
Links have been the staple of SEO ever since the beginning of search engines. On that note, there is no doubt that links are one of the most important factors for achieving top local search rankings.
Obviously, the quantity of links hardly matters if they are not authoritative. When building links, the goal is to list business in niche directories instead of listing everywhere. Not only will it provide more authority for the business, but another advantage of this approach is that the referral traffic from such directories has a better chance of converting. Exchanging links with related local businesses offers more opportunities for link building and these niche links can be beneficial to both parties.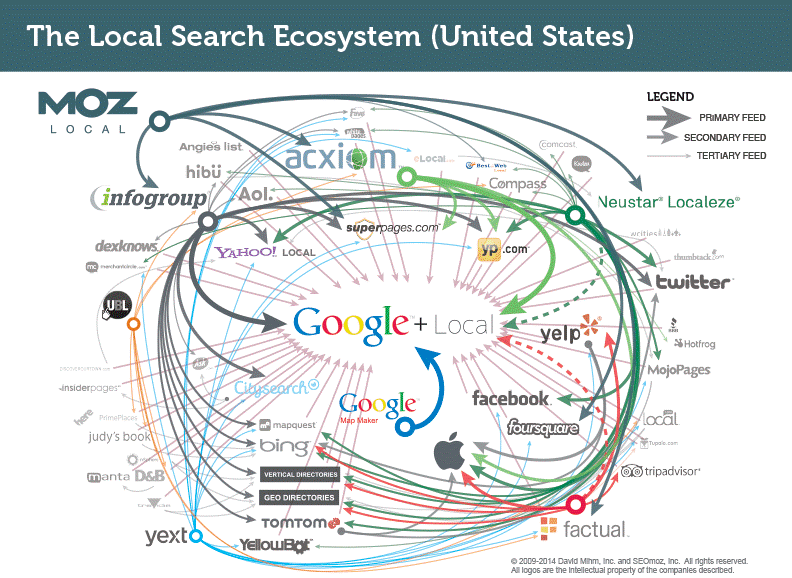 Local SEO Ecosystem. Source: Moz.com
Well defined anchor tags, by adding location and keywords to the texts of your links, gives you a better shot at rankings. As organic results continue to be localized city-wise, the 'keyword+location' query is still an easy target for building links.
Pro Tip: The Page Authority, Domain Authority and Spam Score by Moz are important factors to consider when investing your efforts in link building.
· Update On-Page Elements
Every line of code on your website has its significance and influence on search rankings. Keeping that in mind, including a location in the title of landing pages (from local listings) is a safe place to start with on-page SEO audits.
Compatibility (of your website) with a variety of platforms allows you to expand your neighborhood and reach a wider target audience. A fast, responsive website design improves mobile performance and Google wants webmasters to join them in their 'mobile first' mission of search.
In an earlier section, we mentioned the importance of maintaining NAP consistency between your local listings and information on the website. But how do we ensure that search engine bots are able to identify the data in the correct manner?
Answer – by using the correct Markup.
Schema.org is the popular markup used by local businesses to help search bots pinpoint data accurately.
Pro Tip: Schema.org's Local Business NAP generator tool can help novice programmers generate the correct code to implement on their business website.
· Create Localized Content
Google weighs content and links as the two most important factors in their search algorithm. Creating localized content for your website or blog provides more opportunities to compete locally on search.
High-quality content offers more value to the customers by providing them insights to your expertise and inviting participation in discussions. Blogging about local events and communities is a great way to interact with customers in an authentic way.
Also, building content around keywords helps Google understand the theme of your site. With a sprinkle of location-related keywords, your website SEO will quickly show signs of progress.
Note that if you serve multiple locations, you must create targeted content on all distinct pages for individual cities and the content quality will help you rank better for those locations. In addition, placing the links of these city-specific pages in the footer of your website helps users find the content easily, further boosting the SEO of your business.
Pro Tip: Google despises keyword stuffing and it isn't nice to hammer your customers with nothing but keywords with only a hint of sentences here and there. So avoid that.
· Ask for Reviews
Reviews are yet another form of content that has the ability to draw in new customers. 92% of customers depend on or consider online reviews to decide on the purchase of products and services, both online and offline. With Google factoring reviews to determine local business rankings, obtaining positive feedback on GMB listings and other directories (e.g. Yelp) has a significant impact on your business' authority.
With reviews come star ratings, which further add to the authority of your business in search results. You have to be obvious that you want the reviews (and those five stars) from your customers and must ensure that the entire process of leaving a review is simple and efficient.
Pro Tip: Reviews give you a chance to tend to unhappy customers and solve their problems, which can help your reputation and attract more customers to your business.
· Don't Forget Social Media
Interacting with customers and new users on platforms like Facebook, Twitter, and Google+ adds more value to your local business. Facebook likes, Google+ authority and Twitter followers are important social signals used in search rankings.
Depending on your business, other social media channels such as Instagram or Pinterest can prove beneficial in showcasing your work and attracting more traffic to your website.
Pro Tip: All social channels are not equal. If one of your profiles isn't performing as well, it is better to leave that behind and focus on those which are more successful.
Choose the Right Social Media Channels
Why These?
Because proximity isn't one of the factors that you can optimize your website for. Also, you don't have much control over signals like CTR or CTA and the user-based personalization of search results is another set of signals that are difficult to get by.
Wrapping Things Up
These changes, which have been in action since Google's Possum Update, have increased the competitiveness in Local SEO. Though organic results are still localized based on city, offering ranking opportunities with localized content, the reduced reach from local 3-pack means that these results will drive lesser traffic to your website, lowering the completed conversions.
To counter that, SEOs and webmasters have to push more on the optimization efforts and the six methods we mentioned above can help a lot in doing just that.
Thank you so much for reading.  Let us know if you have any suggestions & queries.
Recommended Posts
October 2, 2018